Never put off needed plaster repair in CT, as the longer you ignore signs of plaster damage, the more extensive and costly your eventual fixes. A cracked plaster ceiling can also eventually collapse, risking more damage to your home and injury to anyone in the vicinity!
Unfortunately, some homeowners might put off needed repairs simply because they don't recognize signs of plaster damage. Check out this quick list of 5 red flags that might indicate it's time to schedule plaster repair for a CT property, so you know your home or commercial structure is always in good condition.
1. When to Schedule Plaster Crack Repair in CT
Tiny, hairline cracks along plaster surfaces are not unusual and especially after new plaster installation, as the material continues to shrink slightly while curing. However, when you notice cracks large enough to insert a fingernail or coin, or when cracks spread and then join together, it's time to schedule repairs!
It's also vital that you have all plaster ceiling cracks inspected no matter their size, as the weight of that plaster can pull on ceiling sections, creating larger cracks and risking collapse. A plaster repair contractor might reattach certain sections to ceiling framing, ensuring the plaster is strong and secure and will stay in place.
2. Schedule Repairs for Soft Plaster
As with cracks, soft plaster is not unusual after its initial installation and during the curing process, but once that material dries you shouldn't notice soft spots along its surface. Soft plaster might indicate water damage or a plumbing leak behind the wall or along the ceiling; the longer this issue is ignored, the greater that damage and more costly your eventual repairs.
Note, too, that a water leak can lead to mold growth in the home. While plaster doesn't feed mold, it can spread along wood framing, risking damage and health concerns. To avoid these risks, have the plaster and framing behind it checked if you notice soft spots.
3. Bubbling Means It's Time for CT Plaster Repair
Bubbling is a sign of plaster water damage and should not be overlooked! If you notice bubbling along your plaster walls or ceilings, don't simply sand and paint over this area but keep it intact for a plaster repair contractor to inspect. He or she will know where to start their inspection and can note the extent of damage and needed repairs.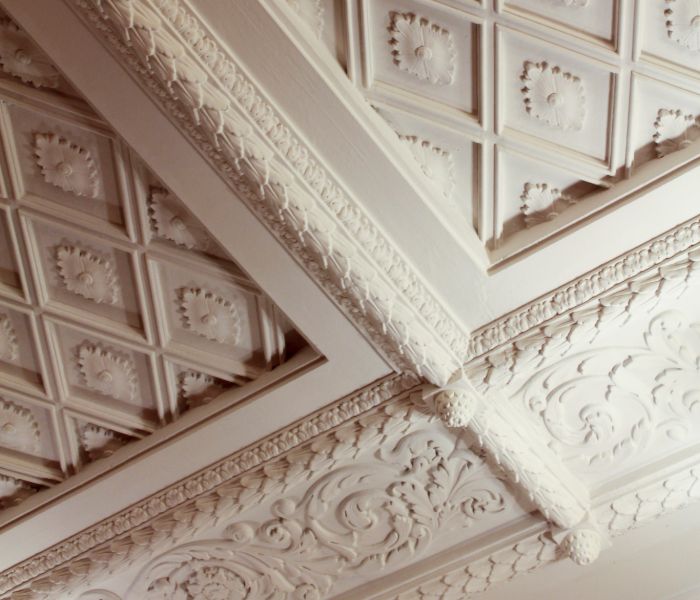 4. Schedule Repairs for Sagging Plaster!
Homeowners often overlook sagging plaster simply because it's not common practice to look up at the ceiling every day! However, if you have a plaster ceiling it's vital that you inspect it regularly for sagging areas. Check any potential slope from various spots around the room, so you can spot sagging or uneven areas quickly.
A homeowner might also notice sagging or what feels like loose plaster by gently pushing on various sections; if it feels like the plaster is moving backward or is soft and pliable, this can indicate water damage or a damaged plaster lath. Schedule repairs quickly, before the plaster can crack and collapse!
5. Tap the Wall and Check for Hollow Sounds
Plaster is installed in layers and the end product is quite thick and dense. If you tap on your home's walls or ceilings and notice a hollow sound, this can indicate cracks or other damage hidden away behind the surface.
To check for hollow sounds in your home's plaster, use the handle of a screwdriver or rubber mallet and gently tap various areas; note if that sound seems different as you work through the room. If the sound is uneven or hollow in any section, have the plaster inspected by a repair contractor.
Bonus Tip: Be Alert to the Risk of Plaster Damage
Along with signs of potential plaster damage, a homeowner might note anything that has put plaster in the home at risk of cracking, bubbling, and collapsing. For example, if your home has gone through a flood, schedule a plaster inspection after cleanup and other repairs, so a contractor can check for potential damage behind walls.
Plaster can also absorb water from plumbing leaks and then eventually crack, chip, and bubble. After plumbing repairs are made and the leak plugged up, have plaster and its lath behind it inspected for potential damage. While plaster is durable and meant to last for decades, it's also helpful to have it inspected regularly as it ages, to ensure the material and its lath are in good condition.
Connecticut Plaster Restoration is happy to bring this information about plaster repair in CT to our readers. If you're in the area and have spotted any of these red flags, it's time to call our expert CT plaster repair contractors! Our crew makes quick work of inspecting plaster and spotting signs of damage and making quality repairs that last. For more information, give us a call today!