Homes in the United States that were built before the 1950s typically were constructed with plaster. In fact, in centuries past, having plaster cast art or moldings was a sign of the elite, according to Cornell University Library. After the 1950s and 1960s, drywall was introduced to the architecture industry, and home improvement contractors found that it was much easier, cheaper, and quicker to install. While many enjoy the modern drywall over the outdated plaster, a select few put value on the artistry and unique appearance of plaster molding, plaster ceilings, and lath and plaster walls.
How is Plaster Molding Actually Restored?
Owning a building with plaster means knowing how to restore plaster molding. Molds are created from clay, or replicas can be carved out of the plaster molding. Then, the castings get attached to plaster walls, ceilings, and other moldings. Finally, sanding and painting complete the plaster repair.
Do you consider yourself a DIY property owner? Then plaster restoration of decorative plaster moldings is something you can likely handle on your own. However, the most suitable and efficient way to do plaster restoration is to hire a professional plaster restoration company. If you're ready for a challenge, follow this straightforward guide to plaster restoration, and you will end up with perfectly pristine results every time.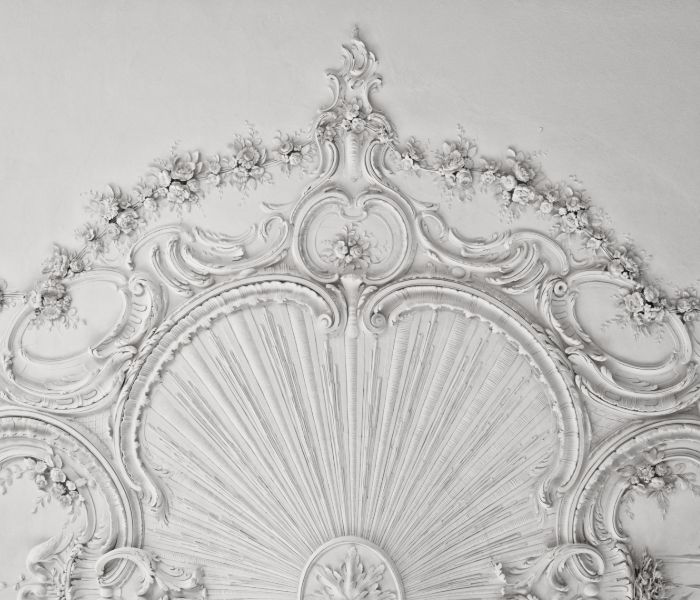 How To Restore Plaster Molding – Starting with the Proper Plaster Restoration Tools
Before you can ever start the process of restoring plaster, you have to have a specific set of tools. This is one of the primary reasons why hiring a professional plaster restoration company is your fittest option. Unless you plan on fixing plaster ceilings, plaster walls, or plaster crown molding frequently, you're going to find that spending money on the tools, equipment, and materials isn't a good investment. The experts already have everything they need to get the job done, not to mention the skill level that only plaster remediation specialists possess for flawless results. If you're ready to take on a project like plaster restoration, you can head to your local hardware store and gather up the following tools and materials. Make sure that you get high-quality items because you don't want to be making a return trip if something fails or doesn't perform the way you expect it to.
Necessary Tools for Plaster Restoration
Utility knife

Cold chisel

10″ drywall knife

Ball pein hammer

Sandpaper

Sandpaper block

Plaster trowel

Clay

Glue

Joint compound

Plaster mix

Mesh fiberglass tape
Your plaster restoration can only be completed accurately with these items in your toolbelt. Ask an employee at the supply store what they recommend for brands if you're not familiar with what's there. They should be able to point you in the right direction.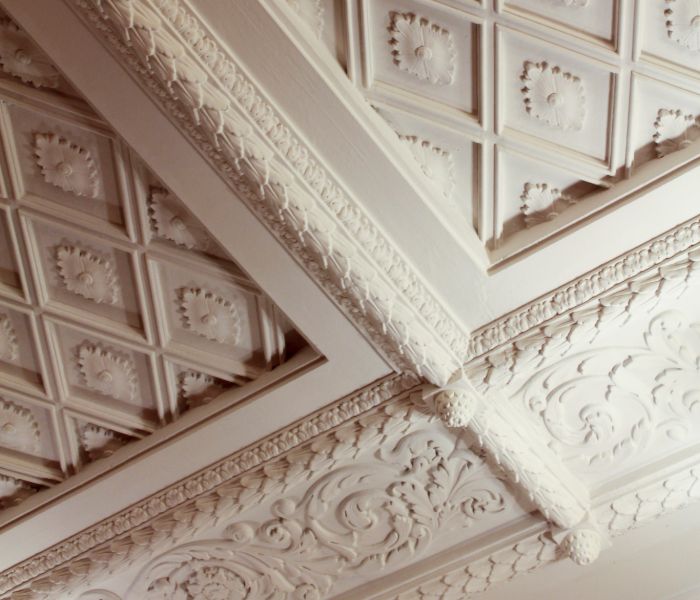 How Do You Fix Decorative Plaster Molding? – Follow These 5 Simple Steps!
Walk into a building that was built before the mid-1900s, and you're guaranteed to experience the character and charm that can only be felt with old lath and plaster moldings, plaster cornice, plaster ceilings, and plaster walls. Unlike drywall, there are details found in plaster completed with artistic features that are genuinely one-of-a-kind. 
While the vintage look is incredibly valued, just like with any type of construction, there will eventually be damages to plaster walls that occur. So if you're the homeowner, you'll want to repair any of the unsightly issues as soon as possible. Get familiar with what's to come by taking a look now at the five easy steps required when it's time to restore or repair your plaster.
1. Patching holes in plaster walls and plaster ceilings
Like with most home renovation projects, or any task really, it's always ideal to start with a fresh canvas. The fewer blemishes, bumps, holes, and other problems, the more impeccable the finish will be. Not only that, but it's much more comfortable in pretty much every aspect, to begin with a clean slate.
Before patching holes in plaster walls or plaster ceilings, you may have to strip the paint, depending on what's there. The previous homeowner may have never painted the area, and if that's the case, you're in the clear. On the other hand, you may find layer upon layer of it, and that will extend the amount of time and energy required to reach the original surface.

For smaller areas, a basic chemical stripper is usually enough. Larger sections or plaster walls in their entirety are done faster with an alkali paste. You'll be able to tell what you need just by looking at how ample space is and how much paint that needs to be removed.

When that's finished, you're wondering, "what do you use to patch plaster walls," right? At some point, chances are a chair, a body part, a door handle, or another instrument punctured the plaster somewhere. 

To go along with the fresh slate idea now is the time to repair the holes in your damaged plaster walls. In your collection of supplies and materials that you picked up is everything you'll need to get it done. 

You'll first measure any holes in the plaster and then cover them with mesh fiberglass tape for stability. Next, you'll need your veneer plaster joint compound and the plaster trowel to spread the newly mixed plaster over the hole.

When repairing holes in plaster, work in layers and continue to score the area while it dries. Repeat the same process until space you're working in stands slightly higher than the adjacent plaster.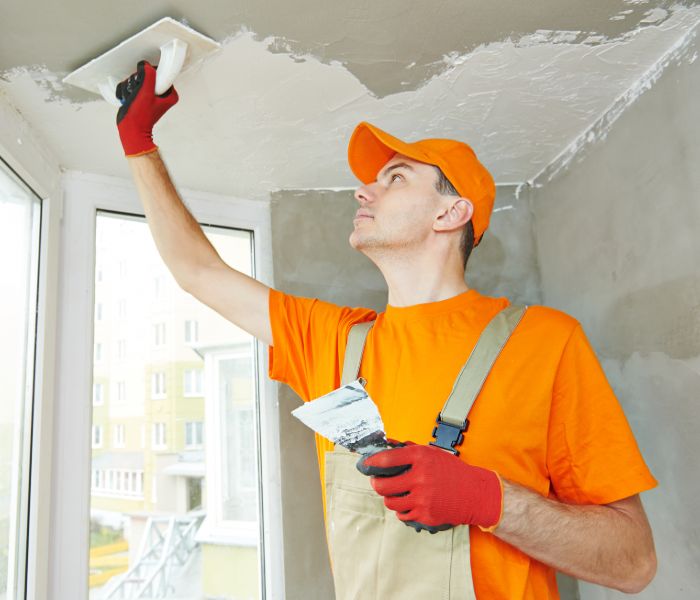 Restoring the plaster crown molding
Now that the flat surfaces are taken care of, you're left wondering how you restore plaster crown molding. This is, without a doubt, the most tedious part of the plaster moldings restoration process.
You'll want to take your clay materials and make a duplicate of the decorative plaster molding. Press it into the crown molding that doesn't need plaster restoration to create an exact reverse replica of the design. Ensure that the clay is thick enough to hold up for when you're pouring plaster into it later.

Pull the clay off and straighten out any bends or imperfections with your hands or tools. Stir up your plaster mix according to the manufacturer's directions. Pour the mixture into your clay crown mold replica, and allow it to dry enough so that you can take the clay out from around it and let the decorative plaster crown molding dry completely.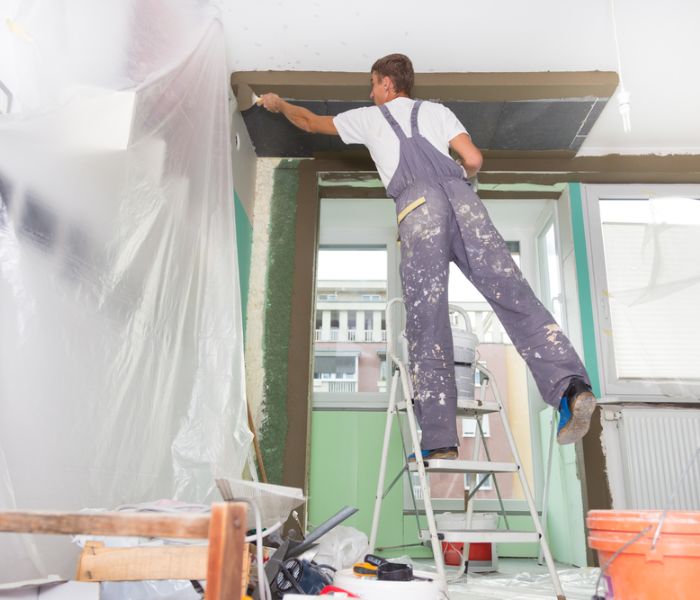 Fixing decorative plaster molding details
Trim off any areas of the plaster molding restoration casting with a utility knife. Grasp your crown moldings with gentle care, so you don't accidentally chip or crack the material. Apply a thin layer of high-quality glue to the reverse side of your decorative crown molding and press it into the area where you're filling the gap. Please don't force it because the plaster mold could break, which means you have to start all over again from scratch.
You'll want to start on one end and work your way down the crown molding towards the other end. You have to take your time and be patient, continuing this plaster restoration step until all the surfaces are appropriately restored, it's clean, and the appearance is faultless.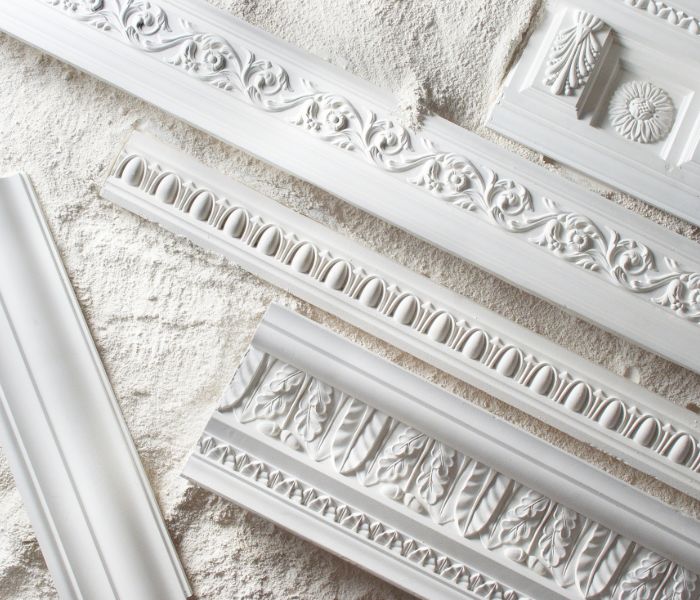 Sanding surfaces
When you've completed the patching of plaster walls, repaired plaster ceilings, and your crown moldings are attached, now is the time to take care of the finer details. Walk around the room, paying close attention to the job you've completed. There will likely be areas that are a bit rough to the touch. These need to be smoothed out before the final step of plaster restoration.
Use high-grade sandpaper that's not too rough, and gently sand away any flaws or imperfections. You should be able to run your hand over the areas without feeling any bumps, cracks, or other raised areas or holes. When you're confident this is taken care of, it's time to move on to the final step!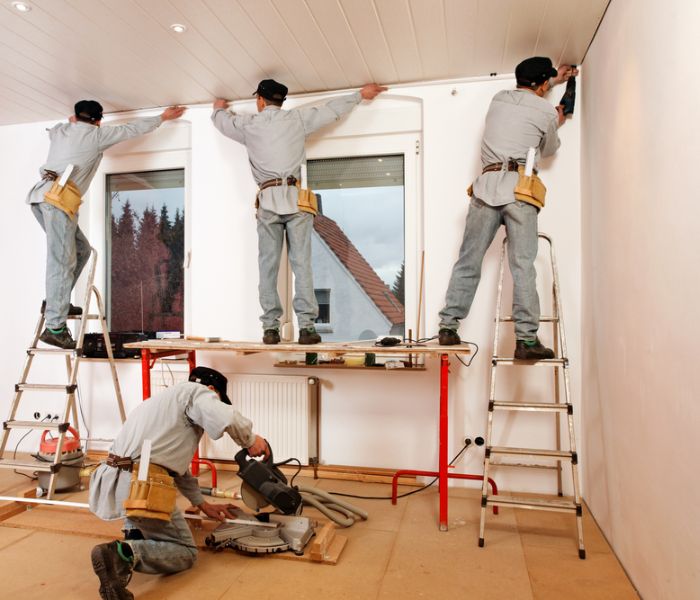 Painting plaster walls, plaster ceilings, and plaster crown moldings
Get your imagination and creativity ready for the last step of plaster restoration. If you appreciate your property's charm and character now, you can have your hardware store match the current paint color. However, if you're looking for a bit of a change, you can repaint the plaster crown molding, in part or the entire space, to suit your personal preferences. 
Are you someone with a steady hand and a flair for detail? You can use multiple paint colors to add depth and uniqueness to the designs and details in the decorative crown molding, medallions, and plaster ceilings. Just be prepared for the job with the right brushes, and know, it's not a task that can be completed quickly if you want it done right. 
As long as you follow these steps as outlined, you will have your plaster restoration done exactly how it's meant to be. Long-lasting results are what you're aiming for, and that's what you're sure to achieve with the right tools, mindset, and aptitude for getting the job done.
Finishing Up – Plaster Restoration in 5 Simple Steps!
Professional plaster restoration companies have the skill and knowledge to do all of this for you with little to no effort, stress, or headache on your part. DIY homeowners who are up for a test on their capabilities can follow this easy guide to plaster restoration and get the results they desire for a fraction of the price. The key is having these instructions and all the tools, equipment, and materials you need ahead of time. Additionally, be ready for a tedious project requiring attention to detail, patience, and plenty of free hours to complete.
A Word from Our Plaster Restoration Company
Connecticut Plaster Restoration is a plaster restoration company in CT with over 35 years of plaster repair experience. The team is knowledgeable in crown moldings, ceiling moldings, cornice moldings, ornamental plaster, ceiling medallions, friezes, and much more. 
Connecticut Plaster Restoration's experts that know plaster repair is more than a job, it's an art form, and they're passionate about achieving the vintage effects of time passed. The rates are affordable, and they are fully licensed and insured. 
With a customer satisfaction guarantee, it's worth looking into getting a fast and friendly estimate for how to restore plaster moldings from the local plaster repair contractors that always show up on time. A friendly customer service representative is available six days a week to take phone calls, answer questions, and schedule your upcoming plaster molding restoration service.