Never put off needed plaster repair for your home or business, as small cracks and other such damage only tends to get worse over time. In some cases, a damaged plaster ceiling is at risk of collapsing, which then means even more costly repairs and the potential for injury to anyone in the room!
Plaster repair costs typically range between $100 and $300 for about four square feet of needed repairs. Hourly pricing might run between the $60 and $90 range. These plaster repair costs are often higher for detailed work such as medallions and intricate plaster crown molding repair.
No matter your expected plaster repair costs, it's vital that you schedule this work as soon as possible, to protect your plaster detailing and home or business from further damage. It's also important that you leave this work to the professionals!
Before you head down to the local hardware store and pick up some plastering supplies or watch another DIY plaster repair video, you might note some reasons why it's good to call a plastering company near you instead. Making the right decision for your plaster ceiling crack repair and other such work ensures your structure is safe and your beautiful plaster detailing always looks its best.
How Much Should Plaster Repair Cost?
While it might be tempting to put off plaster repair costs or attempt this work on your own, you might note some vital details about those costs and what's included in this work. It's also good to note why you want to schedule this work as soon as you notice cracks, sagging, and other signs of plaster damage.
Plaster is applied in layers over what is called lath, or strips of wood. That lath provides a foundation on which wet plaster adheres.
If plaster lath cracks or weakens, it begins to sag, taking plaster with it. Cracks then form, or the plaster pulls away from the lath and begins to sag.
Plaster crack repair should also begin with an inspection of that lath, to ensure it's in good condition and able to support new plaster installation. New lath installation will typically add to your plaster repair costs.
As a home settles and shifts over the years, walls might begin to move out of place slightly. As they do, plaster surfaces crack and sag. Severe plaster cracking might indicate needed foundation repairs along with plaster repair!
Sagging plaster ceilings might mean that plaster sections have pulled away from the lath behind it. In many cases, it's advised that a plaster repair contractor bolt or otherwise strengthen plaster ceiling sections during repairs. This prevents ceiling collapse and future cracks, although it also adds to your plaster repair costs.
New plaster needed for repairs is applied in sections or layers and this process might take days, depending on the extent of damage and thickness of original plaster. A plaster repair contractor often needs to let new, wet plaster sit and cure for many hours if not overnight before adding the next layer. The more extensive these repairs and layering, the higher your plaster repair costs.
When working around corners and odd or uneven areas of a room, a plaster repair contractor often needs to smooth plaster layers in place, shaping those layers around walls and other obstructions. This work takes some skill and expertise and might also add to your plaster repair costs, although it does ensure that your finished plaster walls look even and flawless!
Why Avoid DIY Plaster Repair
Plaster damage repair is not as simple as repairing drywall, wood, and other such building materials. Drywall, wood framing, and other building materials around the home are typically manufactured in one piece that is then cut and fastened where needed. Repairing damaged drywall, subflooring, wall studs, and the like might be as simple as cutting away that damaged part and then fastening a new section in its place.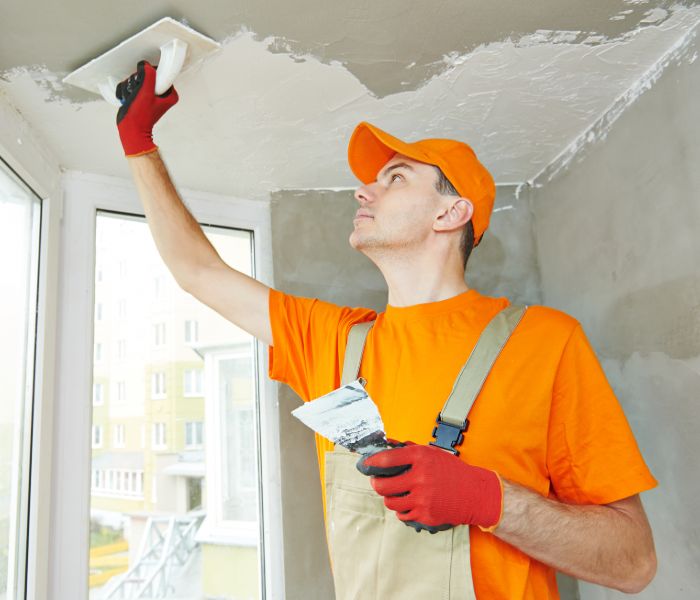 Since plaster is built and applied in layers, repairs are not as simple as replacing a damaged section. A plaster repair contractor near you might need to cut away undamaged plaster, as said, and then build new plaster layers in that place. This process is often time-consuming and requires skill and experience for the repairs to look as seamless as possible.
A plaster repair contractor also ensures lath behind plaster walls and above ceilings is in good condition. He or she will inspect that material for signs of water damage and mold growth, which often indicates a plumbing leak or other needed repairs in the home. Without making those necessary repairs before plaster ceiling crack repair or other such fixes, you'll only see your new plaster layers start to crack and chip over time as well!
It's also very difficult to reproduce intricate plaster details such as medallions and crown molding. A plaster repair contractor might make a mold and then cast of those details, to create new sections of that molding or medallion edge. While this work is difficult and time-consuming, it also ensures you don't lose the character of those plaster details and that your home or commercial structure maintains its authentic appearance, something you can't duplicate with plastic or wood trim.
Signs of Needed Plaster Repair
Some cracks and chips along plaster walls and ceilings are obvious and it's good to call for plaster crack repair as soon as you notice these, and especially if they seem to be growing over time! However, you also want to call for plaster ceiling repair if you notice any uneven or bulging spots along a ceiling, as this might indicate broken or soft plaster needing replacing.
If you discover a water leak or mold in the home, it's good to call a plaster repair contractor near for a full inspection of plaster walls and ceilings. Water leaks lead to weak, soft wood framework including the lath behind plaster. Mold often indicates excess dampness or humidity behind walls and above ceilings and this moisture might also damage that wood lath or foundation.
Should You Choose Plaster Repair or Replacement?
When considering plaster repair costs, you might be thinking of simply replacing that plaster with drywall. While drywall is durable and easy to install and replace over the years, plaster offers many distinct advantages you would do well to consider! One important reason to consider keeping plaster is that it offers an old-world charm that is not duplicated easily with drywall and plastic or wood trim.
Molding and shaping plaster around corners and crevices also creates a smooth, seamless look even for awkward and small rooms. You won't need to worry about fitting trim or other pieces around drywall pieces when you choose smooth, malleable plaster.
Adding finishing, ornate trim is also easier with plaster! A plaster installation contractor often has a number of decorative molds and casts he or she might use to create medallions, friezes, and molding, adding lots of depth and visual interest to your home without a lot of added cost.
One last advantage of plaster is that the dense material doesn't feed mold or fire, making for a safer building material than drywall, and also helps to block outside sound, heat, and cold. Choosing plaster overall drywall can then mean a more comfortable and attractive interior space!
How to Avoid Plaster Repair and Keep Stucco in Good Condition
As with all building materials around your home, how you maintain plaster through the years affects its overall lifespan and can increase or decrease how often you'll see plaster ceiling cracks and other such damage. One vital tip for ensuring you keep plaster in good repair is to schedule regular plumbing inspections and leak detection for your home or business. Water leaks damage plaster lath, as said, so keeping plumbing in good repair also helps avoid plaster damage.
While hairline cracks along plaster walls and ceilings are somewhat normal and don't necessarily need a call to a plaster repair contractor, it's helpful to patch those cracks quickly. Openings or breaks in plaster allow water and moisture to seep into its lower layers, potentially softening that plaster and damaging its lath or foundation.
Related Questions
How long should plaster installation last?
Plaster is such a durable material that some plaster installations are hundreds of years old! Plaster doesn't feed mold as does drywall and other such materials and stays dense and durable indefinitely. Ensure you perform plaster repairs at the first sign of damage and your plaster walls and ceilings might even outlive you!
Can you add new plaster over old plaster?
As with applying new paint over old paint, it's vital that existing plaster be prepared properly so that new plaster adheres as it should. Sand down or cut away crumbling, dusty plaster before applying fresh coats, and ensure wood lath or backing is solid and secure before attempting any new plaster layering or applications.
Can you repair plaster with joint compound?
Joint compound is often sufficient for repairing hairline plaster cracks but might become a bit unsightly for major plaster repairs. Joint compound also does nothing to repair broken or water-damaged lath behind plaster walls and other surfaces.