How is plaster installed? If you own a home or commercial structure with plaster walls and ceilings or are considering plaster versus drywall for a new construction or renovation project, it's vital you understand the material's installation and construction process. Knowing how plaster is installed can help you decide between plaster and drywall and ensure you keep that plaster in good condition over the years!
Plaster is manufacthttp://services/plaster-installation-ct/ured as a dry powder. Adding water creates a paste that is applied over what is called a lath, or wood strips designed to keep this paste in position. As the paste dries, more layers are added until the material creates a solid, durable construction material.
Since plaster is applied as a paste and isn't sold in sheets and panels like drywall, you might note a bit more information about the application process, so you know why it's recommended you rely on a pro for installation and repairs. It's also helpful to note the pros and cons of both drywall and plaster, so you can make the right choice between the two for any new construction or renovation projects you're planning.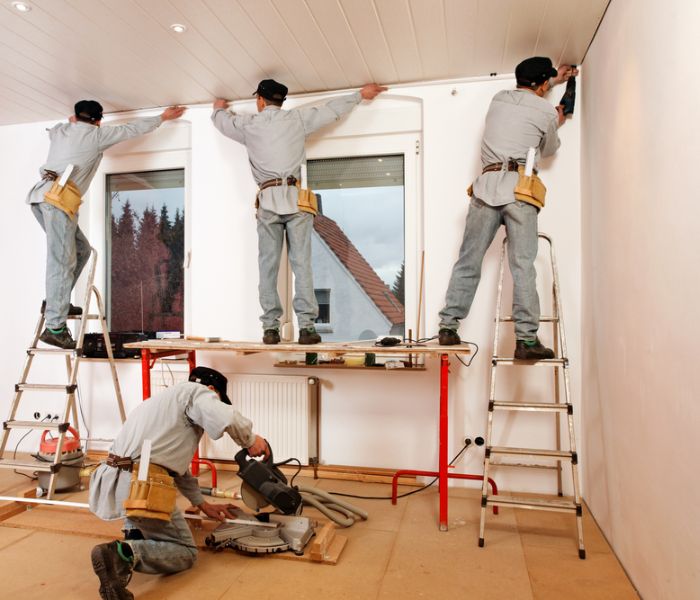 How Is Plaster Installed?
First note three common phrases you'll hear when discussing plaster application; "plaster" typically refers to interior applications, while "render" often means exterior applications. "Stucco" is often used interchangeably with plaster but typically refers to soft plaster that is shaped and formed for decorative purposes, such as crown molding.
Plaster application starts with wood lath, or strips of wood nailed horizontally across wall studs and ceiling beams. This lath keeps wet plaster in place as it dries, and provides support for the finished product.

Plaster powder is mixed with water to form a paste. This paste is applied to the lath with a trowel, and then tamped into place.

A plaster installation contractor will work in small sections, mixing new plaster as needed, to prevent the plaster from drying before it's applied.

Once that first layer has time to begin drying and curing, another layer is typically applied over it. A plaster contractor might scrape or skim that first coat, to create a bit of texture which helps hold new plaster in position.

The second coat of plaster, called a skim coat, gets a good polish so that it stays smooth and even, without bubbles or gaps. It might also be stamped or otherwise fabricated for a textured design.
Stucco might also be added, either shaped onsite or formed elsewhere and then adhered to the plaster walls and ceilings with specialty adhesive. Plaster can also be painted as desired.
Plaster Over Plaster
Adding a new layer of plaster over an existing layer is an excellent choice for repairing small cracks and other damage, or for covering over textured plaster walls versus trying to sand away their design. Applying plaster over plaster is called skimming, or adding a skim coat.
When skimming plaster walls, it's vital that you add a very thin coat as opposed to thick layers as you would when installing new plaster. New plaster is applied in thicker layers, to provide added insulation in the home and keep the material secure. Adding too many thick layers over existing plaster can put undue weight on the lath, risking damage.
Scrim tape, a special open-weave tape used for construction, might also be applied over existing cracks and other gaps. This tape will help hold the fresh plaster in place while it dries, providing added support and reducing the risk of new cracks forming.
How Do You Know If You Have Plaster Walls?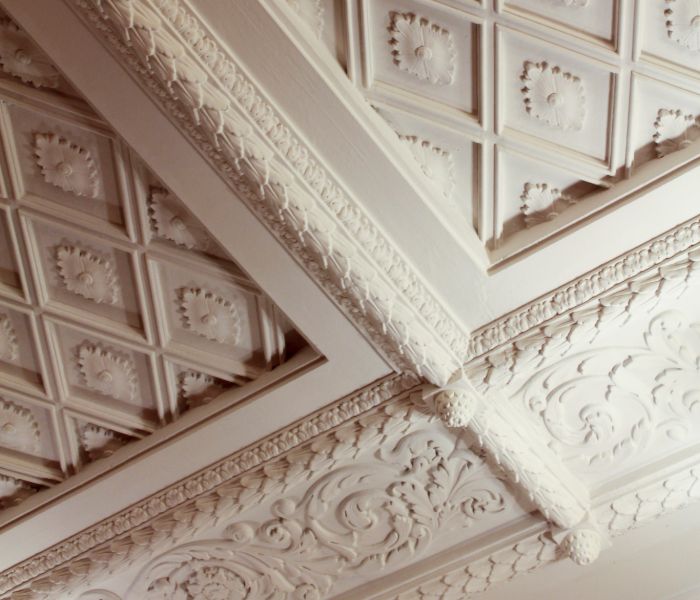 Knowing whether or not walls are plaster is vital before making any repairs or even painting their surfaces! To determine if your home or commercial structure has plaster or drywall, try pushing a thumbtack through an inconspicuous spot along the wall; drywall is soft and typically easy to penetrate, while plaster is denser and stronger. If you cannot get that thumbtack through, you probably have plaster walls.
You can also try looking behind walls by removing a switch plate in front of a light switch or electrical socket. Notice if there are wood strips behind that plate, or if the wiring for the switch or socket is contained in a box. If you can see lath strips, your structure has plaster walls; if the wiring is in a box, this often indicates drywall walls.
Can I Plaster My Own Walls?
A homeowner can learn how to plaster their own walls and might do an adequate job; however, as with any home improvement project, it's very easy to get plaster application wrong, risking future damage and unsightly results! Adding plaster layers might seem simple enough, but a property owner cannot simply pick up a trowel and start "slapping" plaster onto lath and expect attractive, durable finishes that last.
For best results, first invest in the right tools, including a plastering trowel. A plastering trowel offers a jagged side for marking the first layer of plaster, and a smooth side for ensuring a perfect finish. Plastering trowels are also typically larger than standard trowels, making it easier to apply all the plaster needed to create walls and ceilings.
A plaster mixer also ensures proper mixing of the plaster powder and water, without bubbles or clumps. Just like using the right mixer or blender is vital when cooking and baking, a plaster mixer will ensure your finished material is ready for application and looks its best once installed!
If you're considering skimming existing walls with new plaster, it's vital that you strip away wallpaper and give the walls a thorough cleaning, as plaster won't adhere to paper or dirty surfaces. Scrim tape helps hold plaster in cracks and crevices, as said, and applying PVA adhesive will also help hold plaster in place as it dries and cures.
Plaster Over Drywall
A plaster installation contractor or homeowner can add plaster over drywall, using the steps noted above. Adding PVA adhesive is vital when skimming drywall, to keep that plaster in place and ensure a smooth, even finish.
However, new plaster is not typically installed over drywall but over lath attached to a structure's framing. The plaster is then built up layer by layer, smoothed into position, and then allowed to dry and cure.
Is Drywall or Plaster Better?
Both plaster and drywall have pros and cons; reviewing these together can help you decide the best choice for your property.
Drywall advantages
Drywall sheets are typically easier to install than building up plaster layers along walls, and especially on ceilings!

Because drywall is used more commonly than plaster, you might have an easier time finding a drywall installation or repair contractor than one skilled in working with plaster.

Drywall sheets are typically cheaper than the amount of plaster needed to build up walls and ceilings.

Since drywall is softer, it's often easier to hang items, install shelving, and the like.

Drywall panels might offer more insulation than plaster.
Plaster advantages
Drywall consists of wood and paper; as such, it can feed mold and encourage mold to spread through the home. Plaster does not have materials that feed mold; while mold can grow on the lath or framing behind plaster, it won't grow along plaster surfaces.

Plaster also doesn't feed carpenter ants, rodents, and other pests that might tend to chew on drywall, either as a food source or to create holes for burrowing through your property.

Plaster is more fire-resistant than drywall.

Drywall panels are easy enough to install but can be a challenge when working around odd spaces, corners, and uneven surfaces. Since plaster is applied as a paste, it can be shaped around curves and in other odd nooks and crannies far more easily than drywall.

As plaster is denser than drywall, it often blocks sound better, making it an excellent choice for homes near busy roadways, schools, and other distractions.

Denser plaster can also be tougher to crack or otherwise break. If you have active children or pets in the home and are concerned that they might knock holes in the wall, consider plaster versus drywall.

Plaster offers a high-end look that drywall cannot duplicate! In areas with prewar properties, original plaster might actually add to the property's value; replacing that plaster with drywall might decrease its value.

Plaster details including crown molding, friezes, and wall textures add lots of visual interest to a space and can also increase property values!
Types of Plaster Used for Walls
If you should visit a local hardware or home improvement store looking for plaster, you might note that there are more plaster options on the shelf than expected! Knowing a bit about their differences and why each type is used can assist you in choosing the best plaster type for your property.
 

Browning plaster is used as an undercoat, as it holds paint and other materials very easily. If your home's plaster is old and faded and needs a good coat of paint, you might add some browning plaster first, for best results.

Bonding plaster has excellent adhesion, hence its name! Bonding plaster is often used on surfaces that might not hold plaster easily, such as brick or concrete.

Hardwall plaster is also used as an undercoat, typically for brick and masonry work.

Thistle plaster is used as a finishing topcoat, as it provides a smooth, attractive surface.

Carlite plaster is also used as a finishing topcoat but is typically more durable and scratch-resistant than thistle plaster.

One coat premixed plaster is excellent for beginners, as it works as both an undercoat and topcoat. It's also easy to apply and one coat is often all you need for a complete finish!

Clay plaster is composed of clay, sand, and pigments, and helps absorb moisture, making it an excellent choice for areas with high humidity levels.

Slaked lime plaster is an aged putty that also helps regulate humidity in the environment around it.

Gypsum plaster is the commonly used powdered plaster you need to mix with water to apply. Gypsum is easy to tint and doesn't need as many coats as other plaster types, making it a great choice for beginners.

Add pigment to slaked lime plaster and you have Venetian plaster! Venetian plaster is prized for its unique look and finish, offering every style from a spongy swirl to a high-gloss sheen.

Neo plaster is a term used for new plaster materials, often created by various manufacturers to provide an easier application process and a great variety of finishes.
Plaster Finish Effects and How to Achieve Them!
One great advantage of plaster over drywall is that the material can be shaped and molded, as said. This allows you to create some dazzling finish effects for your plaster, offering a unique look and lots of visual interest in your home or commercial structure. If you've never worked with plaster before, you might add some to a scrap block of wood and practice these techniques before trying them on your walls!
A scrapped finish looks similar to wood. Apply a final coat and allow it to dry for several hours, and then use the tip of a straight edge to scrape it in random vertical "stripes."

A pebble dash finish is excellent for exterior walls. Add an outer layer about 12mm thick. Coat it with pebbles and push the pebbles into the plaster using a float. Allow them to dry.

A rough cast finish resembles sand, mostly because that last layer is made of a special sand plaster. To apply, mix one part coarse aggregate, one and a half parts plaster cement, and three parts sand, and apply as you would a standard finish coat.
You can also practice freehand finishes, for a unique look. Apply plaster in a thick swirling design, or put your trowel flat against the plaster and then pull it away from the wall, to create added texture. Keep practicing on scrap wood until you achieve a look you love, and then apply that plastering technique to your walls!
Connecticut Plaster Restoration is happy to bring this information to our readers and hopefully it helped answer the question, how is plaster installed? For the best plaster repair and installation for your property, turn to our trusted Connecticut plaster repair contractors. We have over 20 years of experience and guarantee all our work to last. For more information, call us today!